Welcome to the website of the Norfolk Organists' Association
About our Association
We are affiliated to the Incorporated Association of Organists.
We celebrated our Diamond Jubilee in 2007 and the association continues to flourish to this day.
Our members come from all parts of the county and beyond, with our furthest member living in France.
Membership is approximately 115 and is open to anyone. You do not need to be able to play the organ to join!
We are a lively and very active Association and hold events that are informative, educational and of interest to all.
Since 2002 there have been events for young people to encourage them to consider taking up the organ as an instrument. Many who attend these events have not even sat on an organ stool before!
We offer a warm welcome to anyone attending our events.
Tim Patient, Past President.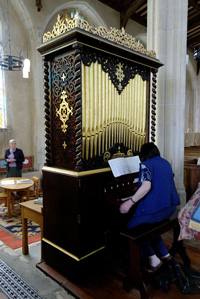 Left: Old Meeting House, Norwich. Right: St. Mary, Wiveton.
Committee Members
President - Matthew Bond / President Elect Michael Flatman [E-mail].
Membership Secretary - Matthew Bond [E-mail].
Secretary - Tim Patient [E-mail].
Events Secretary - Henry Macey [E-mail].
Treasurer - Sylvia Martin [E-mail].
Publicity Officer - Mathew Martin [E-mail].
Journal Editor - Adrian Richards [E-mail].
Other Members - Prue Goldsmith, Ray Bedwell.
Norfolk Organists' Association. Registered charity no. 277560.