Association Founded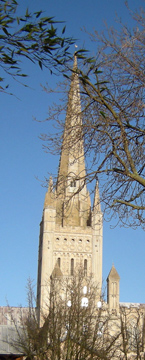 On 12th July 1947, 36 organists from Norwich and Norfolk attended a meeting convened by Mr Arthur Bussey. The meeting unanimously agreed to form a Norfolk and Norwich branch of the IAO (Incorporated Association of Organists) and named it the Norwich and District Organists Association (NDOA). The Norwich Cathedral organist, Dr Heathcote Statham, was elected president and Mr C R Coleman, chairman. Membership was open to organists, choirmasters, and persons capable of holding such positions.
The Association's first event took place in October 1947 when 50 members attended Evensong at Norwich Cathedral (pictured right). They were greeted by the Dean who wished the Association every success. After the service Heathcote Statham gave a recital and then invited members to inspect the console.
Events continued bi-monthly. Those of 1949 included a recital at St Giles' Church Norwich by Nicholas Choveaux on a new Constant Martin electronic organ. The programme was enhanced by vocal items from Barbara Lind, granddaughter of Jenny Lind. During that year members also visited the organ works of John Compton at Acton and, in the December, had the opportunity to meet Dr Thalben-Ball after his recital at Halesworth parish church.
1950s
By 1950 the NDOA had a membership of 122. In 1954 the IAO congress was held in Norwich and the NDOA arranged recitals and sight seeing trips for a large party of visitors.
The Bishop of Norwich accepted an invitation to become the NDOA's first Patron in 1959 and Brian Runnett succeeded Heathcote Statham as President in 1968. Runnett's tenure was short for he died tragically in 1970. Michael Nicholas, on his appointment to cathedral organist, took over the presidency. (The practice of cathedral organist being president, ceased in 1990.)
Norfolk Guild of Organists
At the 1972 AGM the Association decided it was time to make a fresh start and changed its name to the Norfolk Guild of Organists. A new constitution was accepted and, as membership had fallen to 75, a recruitment drive was started. By 1973 membership had recovered to 91.
The NGO sponsored an organ masterclass/recital by Gillian Weir at Norwich Cathedral in September 1974. Three of the four students taking part were NGO members.
Another masterclass took place in 1976, this time at Christ Church, Eaton at which Arthur Wills instructed seven students.
1980s
In the 1980's events became monthly and included visiting and playing organs in churches, chapels, schools, organ builders' workshops and private residences, talks and recitals. There was also an annual dinner with guest speaker, an annual coach outing and Choral Evensong for St Cecilia's Day in Norwich Cathedral.
The NGO sponsored an organ playing competition in 1988 which was adjudicated by Harrison Oxley in St Thomas's Church, Heigham, the two winning entrants receiving handsome prizes. In 1990 Martin Souter gave a lecture/recital at Norwich Cathedralon the life and organ music of Jehan Alain. Anne Page gave a harmonium recital in 1993 at Shelton parish church, playing an 1857 Alexandre and a 1897 Mustel on loan for the occasion. The following year Nigel Ogden entertained members on the 7 rank Compton organ at Oxnead Mill.
Golden Jubilee
The NGO celebrated its Golden Jubilee on 12th July 1997. The day's celebration commenced with a reception in Prior's Hall, The Close, Norwich, where an exhibition of archive material was displayed and an anniversary cake was cut by Dr Francis Jackson and Dr Gillian Ward Russell. Members then attended Evensong in the cathedral, sung by the Sine Nomine choir with the Guild's President Mr Bryan Ellum playing the organ. The office hymn "Now it is Evening" by Dr Fred Pratt Green, was sung to the tune "Avond" composed by Stanly Fuller, late vice president of the Guild. After Evensong Dr Jackson gave a recital. His programme commenced and concluded with a performance of "Jubilaum" composed by Ronald Watson especially for the occasion. The celebrations concluded with a formal dinner at the Maid's Head Hotel where a small group of members sang grace; the words of John Newton having been set to music composed by Ronald Watson, again especially for the Guild's 50th anniversary.
Norfolk Organists' Association
At the AGM following the Golden Jubilee, the Guild made radical changes to its hierarchy and altered its name to the Norfolk Organists' Association (NOA).
In the year 2000 the NOA went to Paris, visiting the Sacré Coeur, La Sainte Trinité, St Gervais, Ste Clothilde and St Sulpice. Events in the Millenium year also included a visit to Oundle School and a lecture on the music of Burghley House by the Honorary Keeper of the Music Dr Gerald Gifford.
To commemorate the death of founder member Arthur Bussey in 1981, a bowl carved from wood from Norwich Cathedral. This collection bowl is still in use at meetings today.
From 1967 a quarterly "Newsletter" kept members informed of organ news and events. After completing 100 issues the editor, Mr Bootman, retired. It was superseded by "The Journal" edited by Ronald Watson. "The Journal" continues to bring members together with its news, letters, articles and photographs.